Callmaker of the Month: Paul Meek (MS)

March/April 2001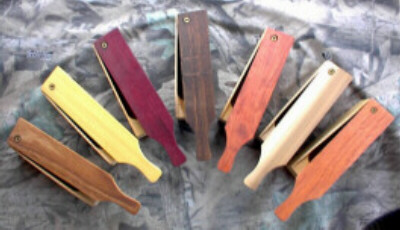 Group photo of Pauls hunter model series of calls.

---

Paul Meek of Sandhill, Mississippi has been making turkey calls since 1978 out of a variety of woods.

Paul makes paddle-style, single-sided, double-sided, slate, scratch box, collector, and art series calls. Call artwork is engraved by hand by Paul or his brother Van. The call pictured to the right is part of his wildlife art series of calls.

Paul says "Over the years, you learn the right woods to use, how to get the right thicknesses and the right angles to get the kinds of sounds you want the calls to repeat." "I have made calls out of so many different types of wood that didn't work and I just threw them in the garbage and started over. That's the reason I like the woods I use now. They are stable and make a good sound." He is currently using sycamore, walnut, poplar, western cedar, mahogany, and ash. As of February 2001, he was experimenting with laminates.

This is one of Pauls long box paddle-style calls.


The call pictured below is part of the limited edition collector series for the year 2001. It is made out of butternut. Paul makes quality calls that are sure to please the most discriminating hunter or collector.

For more information, contact Paul through his website, or by email.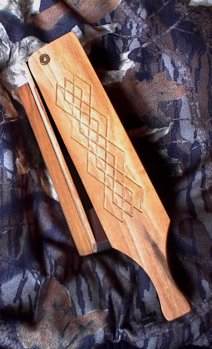 ---
NOTE: The "Callmaker of the Month" page is meant to highlight custom turkey call makers, both new and well-established, whether they sell their calls or not. If you are a callmaker and would like your calls to be featured here, along with your contact information and web link, simply email your info and call pics (must have at least one pic) to theboxcallpage@hotmail.com.

Because this is meant to be a non-commercial site for sharing information, I won't post specific prices or inventories here, but I would be happy to include a general price range in your information.

Thanks for visiting The Box Call Page.

Home In the Shop with Paul Events Art of Engraving Order Form Link to Us Hunter Calls Collectible Calls Wildlife Calls Custom Calls Deer Scents Fish Lures Gun Stocks Plaques Dealers Links MS Deer Seasons MS Turkey Seasons Paul's Poetry