Custom Style Pot Calls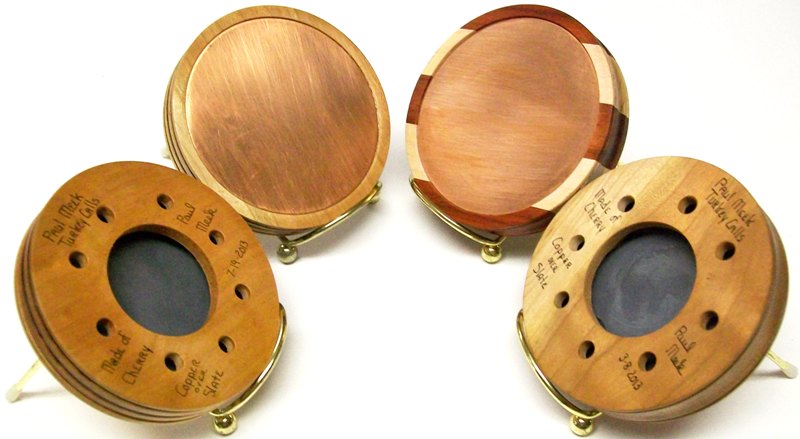 All pot style calls are completely hand made by me. I use a lot of different kings of woods, sound boards, and surfaces to get the sounds I want. You can see in the photos the different woods and surfaces. My inventory doesn't stay the same as they are made and shipped out on a regularly basis. Just have to call me and I will send you photos of what I have on hand. You can pick out what you like and I will play them with different strikers until we get the sound you like.
Prices are: $75.00 inlay in top. $85.00 inlay in top and sides. $160.00 for matched sets.
Here are some examples, you may click image to enlarge them.
| | |
| --- | --- |
| | COPPER CALLS are made with the striking surface made of copper and the back side is slate. This call is completely different from anything I have ever made. It is a raspy sounding call with medium to high pitch. Excellent fighting purrs and deep sounding old hen yelps. I came up with this one two years ago and it has really caught. I took fifteen of these to the NWTF Grand Nationals in Nashville last year. The show opened at 9;00 and I had sold all of them by 12:00. This is a two sided call that allows to play on both side for two different sounds. Price for call and striker is - $50.00 |
| | |
| --- | --- |
| SLATE CALLS are made with the striking surface made of slate and the back side is slate. They are good all around hunting calls that make excellent yelps, clucks and purrs, and cuts. This is a two sided call that allows to play on both side for two different sounds. Price for call and striker is - $50.00 | GLASS CALLS are made with the striking surface made of glass and the back side is slate. A little higher pitch than the slate calls. This is a two sided call that allows to play on both side for two different sounds. Price for call and striker is - $50.00 |
| CRYSTAL CALLS are made with the striking surface made of crystal and the back side is slate. They are high pitch calls that can get up to the kee-kee levels. This is a two sided call that allows to play on both side for two different sounds.Price for call and striker is - $50.00 | CERAMIC CALLS are made with the striking surface made of ceramic and the back side is slate. They are easy to play call due to the rough surface. A medium to high pitch depending on how much pressure you put on the striker. This is a two sided call that allows to play on both side for two different sounds. Price for call and striker is - $50.00 |
| BLACK ALUMINUM calls are made with the striking surface made of black anodized aluminum and the back side is slate. A higher pitch call that is a real screamer if you get into it. It will get as loud as you want to hear. This is a two sided call that allows to play on both side for two different sounds.Price for call and striker is - $50.00 | GREEN ALUMINUM calls are made with the striking surface made of green anodized aluminum and the back side is slate. a higher pitch call that is a real screamer if you get into it. It will get as loud as you want to hear. This is a two sided call that allows to play on both side for two different sounds. Price for call and striker is - $50.00 |
OR
Call in your Online Orders, All major credit cards accepted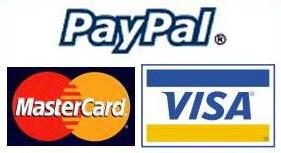 Shipping Charges:
Up to $50.00 Shipping is $6.00
$50.00 and above Shipping is $8.00
SATISFACTION GUARANTEED
DEALERS INQUIRIES WELCOME
MAILING ADDRESS
Paul Meek
728 Sandhill Road
Brandon, MS 39047
601-506-0829

For Questions & Comments Please Email Paul Meek