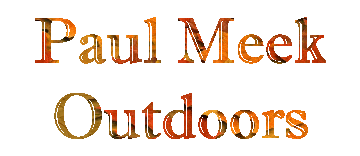 Manufacturer of Fine Quality Turkey Calls,
Deer Lures & Scents, and Liquid Fish Lures
Since 1978
---
SIGNATURE SERIES
---
Click On Any Box For Full Description and Price

LIMITED 2002 SIGNATURE SERIES
In 1997 Paul Meek created his first "Signature Series Turkey Call". Each series is limited to only 50 per year and are individually numbered, signed, and dated by Paul Meek. Once they are gone the design will be discontinued and there will be no more. Already the previous years calls have risen in value.These calls have been featured in Earl Mikels book The Rest Of The Best Turkey Call Makers Past and Present.
The 2002 call has a hewn out bottom from a solid block of poplar. It is a single side call with a lid made out of purpleheart with a hand engraving of interlocking circles.


Price Each \\$60.00
BUY ONE FOR YOURSELF AND/OR SURPRISE A COLLECTOR WITH A CALL WHICH IS SURE TO BECOME A TREASURE WHILE RISING IN VALUE IN THE COMING YEARS!!
---
FAX/MAIL ORDER FORM
Online Orders, Including

Accepted Through
Shipping Charges:
Up to \\$50.00 Shipping is $3.00
$50.00 and above Shipping is $5.00
DEALERS INQUIRIES WELCOME
Paul Meek
P.O. Box 455
Raleigh, MS 39153
601-782-4898
or US Toll Free Order Number 1-800-829-2597
For Questions & Comments Please Email Me
www.paulmeek.com


Home Hunter Calls Collectible Calls Wildlife Calls About Us Deer Scents Fish Lures Testimonials Art of Engraving Gun Stocks Plaques Dealers Events Links Link to Us MS Deer Seasons MS Turkey Seasons Order Form Hunting Blind Custom Calls

Free counters provided by Honesty.com.